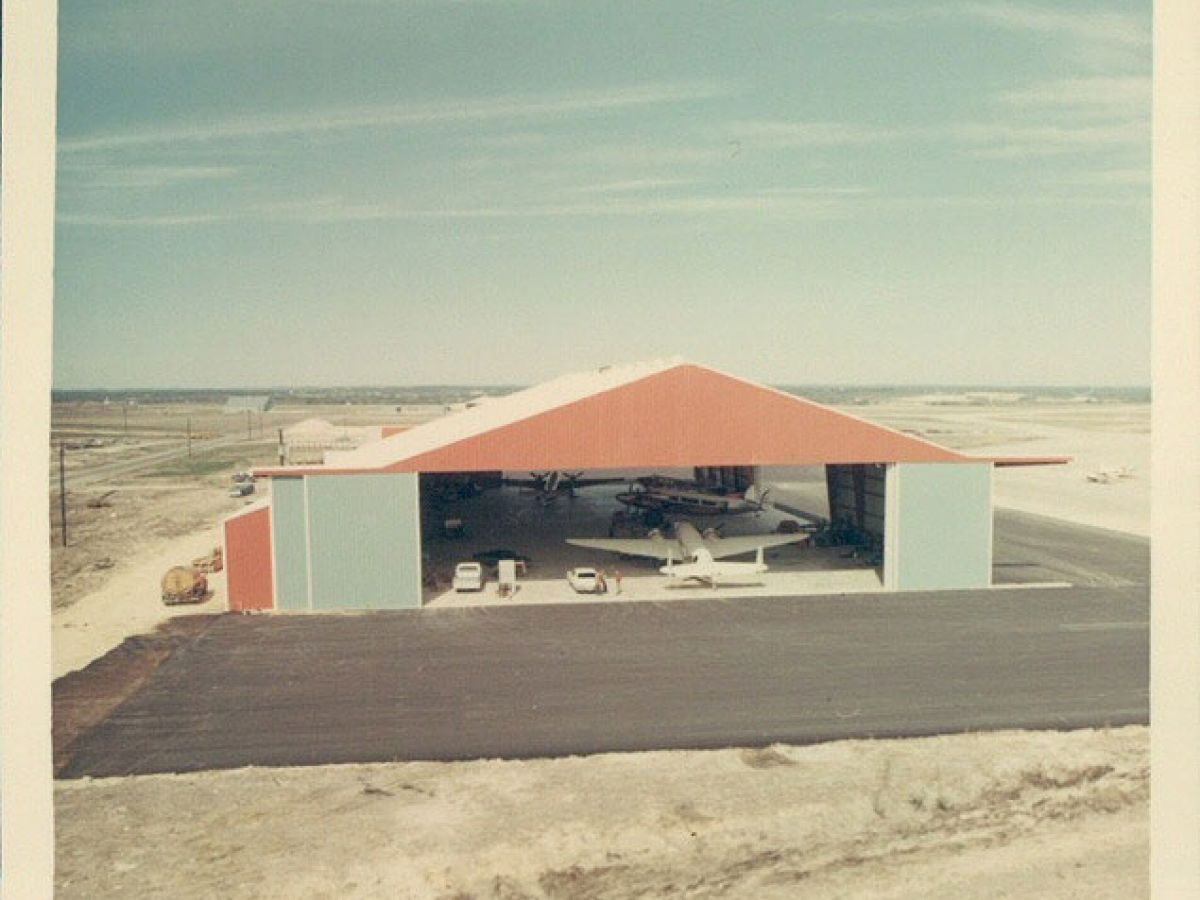 The Dee Howard Co. Beginnings
In 1964 Dee founded The Dee Howard Co. (DHC) based at San Antonio International Airport. DHC soon became the industry leader in engineering and production of performance improvements and quality products for the emerging business and commercial jet aircraft markets. But Dee did not totally abandon the non-jet market.
DHC's first product was the Spar Mod for the Beech 18 aircraft, followed by the development of the Eldorado 700 aircraft, and maintenance of the Howard Aero aircraft. But Dee quickly turned his attention to business jets.
When the new business jets were first introduced they were equipped with drag-chutes for emergency stopping. It wasn't long before business jet thrust reversers went to the top of Dee's list of important things that needed to be done. The rest is history.
The first Dee Howard designed and produced thrust reverser for the GE CJ-610 jet engine was highly successful and advanced the state of the art in thrust reverser function and reliability.
With the introduction of the fan-jet engines for business aviation, The Dee Howard Co. entered into a joint venture with a French engineer, Etienne Fage, to develop cold flow thrust reversers for high bypass fan jet engines. Etienne was one of the original development engineers for the supersonic Concorde.
The Dee Howard/Fage thrust reversers were manufactured by The Dee Howard Co. and soon became standard equipment on several new business jets that were manufactured in the USA, Great Britain (Hawker) and France (Dassault). The Dee Howard Co. thrust reverser business was eventually spun off from The Dee Howard Co. and sold to Nordam of Tulsa, Oklahoma whose Nacelle/Thrust Reverser Systems Division still produces them to this day.
Dee continued to invest in research and development of cutting edge technology, engineering, and aircraft performance improvements, diversifying his business base and growing his company , the growth always being led by DHC state of the art engineering and proprietary technology. Some of the programs and services offered by DHC included:
The Howard/Raisbeck Mark II technology for the Learjet, developed by DHC and a former Boeing engineer, Jim Raisbeck. The Mark II dramatically improved the Learjet flight characteristics and short runway performance. Manufactured and installed by DHC in the retrofit market, it was incorporated by Learjet in new production aircraft;
The Dee Howard XR (Extended Range) modification for the Learjet improved the aircraft's efficiency by 23% by achieving maximum aircraft range at mach 0.80 cruising speed at a time when only the most efficient new swept wing aircraft were able to achieve maximum range at such high cruising speed. The Howard XR technology was adopted by Learjet for the new production G-model aircraft and installed by DHC at its facility in San Antonio;
Pioneering work in engineering and modification on wide body airline type aircraft for head-of-state customers. The capstone accomplishment of this activity was the completion of a new production B747-300 aircraft for his majesty King Fahad of Saudi Arabia. According to Boeing it is the largest and most extensively engineered and modified head-of-state aircraft ever produced;
Modification of passenger aircraft to cargo configuration for Federal Express, including the installation of cargo doors;
Avionics upgrades to state of the art glass cockpits;
Strip and paint facilities;
Maintenance and modification, including the installation of wing box modifications on the ATR aircraft;
Rolls Royce Tay 650 engine retrofits on the BAC1-11 aircraft and the fleet of B727 cargo aircraft for UPS.
In 1988, twenty-four years after its founding in 1964, The Dee Howard Co. had grown to over 1,500 employees and more than 350 engineers on over 54 acres at San Antonio International Airport. This included more than 550,000 square feet of buildings and three hangars that could house wide body aircraft such as B747s and DC-10s.
In 1988, Dee sold a 40% interest in DHC to the Italian aerospace company, Aeritalia (now known as Alenia, a division of Finmeccanica) to continue expansion of global business opportunities for the company and to secure a major long term commercial aviation employer for his employees and San Antonio after he was no longer involved in day to day management of the company.
Between 1988 and 1991 Dee transferred his remaining 60% interest in DHC to Alenia and passed the baton in the aircraft business to others. But the final chapter in Dee's storied career had not been written. Far from it.
After Dee left DHC he founded River City Products, Inc. (RCP) to focus on his other engineering passion, automotive engineering. Specifically, to improve highway safety by making heavy over the road vehicles directionally stable, less fatiguing, and safer to drive. Dee licensed RCP to manufacture and sell the Howard Precision Steer Wheel Control System which is still in service on more than 3,000 heavy over the road buses, trucks and recreational vehicles that have collectively driven hundreds of millions of in-service miles.
Due to failing health, Dee retired from RCP in 2006 and passed away on 12 February 2009. As one final tribute to Dee's engineering genius, the final patent was issued by the US Patent & Trademark office (No.7.806,419) to Durrell U. "Dee" Howard on 5 October 2010.
Related Posts
---
"Aerospace engineering is an area of rapid growth and tremendous importance to both governmental and private industry sectors."