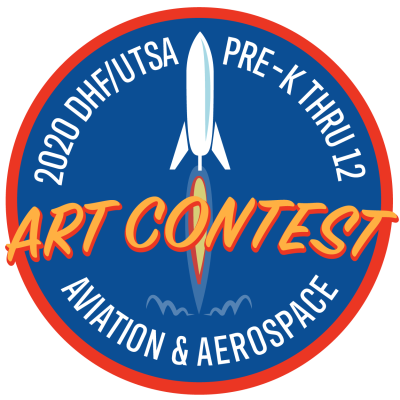 Mission to Mars Art Contest Press Release
(SEPTEMBER, 8, 2020) -- The University of Texas at San Antonio (UTSA) and The Dee Howard Foundation (DHF) are joining with local, state, and national partners to establish the Dee Howard Foundation/UTSA Pre-K thru 12 Aviation and Aerospace Art Contest. In celebration of the NASA MARS 2020 Mission Perseverance Rover, the theme of the inaugural contest for the 2020-2021 academic year is "Mission to Mars." Set to launch the week of September 7, the contest is open to all Pre-K through 12 students in Bexar, Atascosa, Bandera, Comal, Guadalupe, Kendall, Medina and Wilson counties.
"We are excited to partner with The Dee Howard Foundation and other organizations for this unique art contest," JoAnn Browning, dean of the UTSA College of Engineering said. "Our hope is to engage students about aerospace and engineering in a fun and creative way."
The contest invites all students Pre-K through 12 including ISDs, charter schools, private schools, schools on military bases, and home schools to use their creativity to envision what a human settlement on Mars would look like to them. Deadline for submission of all artwork is December 18, 2020.
Prizes will be awarded to the 1st, 2nd and 3rd, place winners of four categories to include: Pre-K – 2nd grade; 3rd – 5th grades; 6th – 8th grades; and 9th – 12th grades, with certificates of participation awarded to all entries. In addition to prizes, The Wayne and Julie Fagan Family Foundation has awarded a grant of $4,000 to The Dee Howard Foundation/UTSA Pre-K thru 12 Aviation and Aerospace Art Contest to be used to help support Pre-K through 12 fine arts programs. All schools that participate in the DHF/UTSA Art Contest will be eligible to be considered for a grant.
"It is important that we not only encourage interest in aviation, aerospace and engineering, but that we support the art and creativity that go hand-in-hand with engaging future leaders in the field," Wayne Fagan, chair of The Dee Howard Foundation said. "With this donation, the Wayne and Julie Fagan Family Foundation is committed to supporting the success of students and their schools."
As an added highlight, students will be "lead" on their Mission to Mars by Honorary Mission Commander Dr. Bernard A. Harris, Jr.. A veteran astronaut, Harris has logged more than 438 hours and traveled over 7.2 million miles in space. He was the first African-American to complete a spacewalk.
"We are honored to have Dr. Harris as our Honorary Mission Commander," Fagan said. "Together with Dr. Harris and our cooperating partners, we have a comprehensive, enthusiastic and experienced team of experts to lead our Mission to Mars."
Cooperating organizations of the contest include: The City of San Antonio Aviation Department, Port San Antonio, The Doseum, Communities in Schools of San Antonio, San Antonio Museum of Science and Technology (SAMSAT), Women in Aviation Alamo City Chapter, San Antonio Chapter-Tuskegee Airman, Inc., Scobee Education Center, Girls Inc., Organization of Black Aerospace Professionals, Pre-K 4 SA, United States Air Force and the WEX Foundation.
Learn more about the Dee Howard Foundation/UTSA Pre-K thru 12 Aviation and Aerospace Art Contest