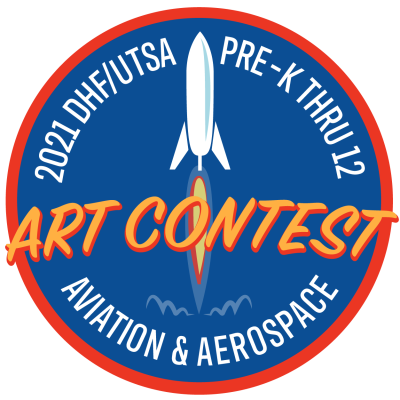 Aerospace-inspired art by local students at San Antonio International Airport
The Dee Howard Foundation, San Antonio International Airport, will unveil works by finalists in annual art competition.
When: Saturday, June 11th
Time: 10:00 am
Where: San Antonio International Airport – Short Term Parking Tunnel
San Antonio, Texas— Thousands of local students representing 40 schools across the San Antonio Area participated in the Annual Dee Howard Foundation/UTSA Aviation and Aerospace Art Contest. This year's theme, "The Future of Flight," asked students to create visual depictions of what they believe we will be flying in or where we will be flying to in the next 20 years.
On Saturday, the works by 12 contest finalists will be unveiled at San Antonio International Airport, where they will be on display from June 11th – to August 31st,
"This annual art contest is a great way to engage and inspire students and support STEAM education by highlighting our amazing aerospace community in San Antonio," said Dee Howard Executive Director Christina Martinez. "On Saturday we will be recognizing the top artists who placed in their grade level category. Through our partnership with San Antonio International Airport, these students have the unique opportunity of having their art showcased for several months as it is seen by thousands of San Antonians traveling to and from our city as well as many more visitors from across the nation and around the world."
In addition to recognizing these amazing artists, The Dee Howard Foundation will also be awarding $100 art educator stipends to the art teachers who supported the contest at their schools. "Being able to award a small token of appreciation to the Art Educators that support and inspire their students is a great part of this initiative," said Martinez.
Guests of the Award Ceremony will also get to hear from the contest's Mission Commander, Lt. Col (Ret.) Olga E Custodio, who is notably the first Latina military pilot and first Latina commercial airline pilot.
"We also want to thank the amazing collaborators who also supported this endeavor: The UTSA School of Engineering and Integrated Design, San Antonio International Airport, Mission Trail Rotary, ST Engineering, Port San Antonio, and of course all partner school districts and staff who helped get the word out," said Martinez.
---
The Mission of The Dee Howard Foundation (DHF) is to honor San Antonio's aviation and aerospace history and to nurture our innovators of the future. We seek to inspire, challenge and empower innovators in these fields while helping to train a skilled workforce for the San Antonio, Texas region while being open to expanding our programming beyond this region in the future. Our educational focus is primarily on Pre-K thru 12 underserved students and first-generation college students through the DHF Pre-K thru 12 Aeronautical STEM Pathway Initiative.