History
"If you don't have a Dee Howard Thrust Reverser… what is stopping you?"
Durrell U. "Dee" Howard
(26 May 1920 – 12 February 2009)
Dee Howard was a respected inventor and legendary in the aviation industry for his many creative accomplishments. Dee had over forty US and foreign patents issued in his name for both aviation and automotive products and the aviation companies which he founded and which bore his name held more than one hundred FAA Supplemental Types Certificates (STCs) and Type Certificate (TC). Dee's aviation career spanned the birth and development of business aircraft in the post-World War II era. He is internationally recognized and honored for advancing the state of the art in business aircraft with numerous performance improvements, such as jet engine thrust reversers and refinements in aircraft flight characteristics.
Dee was born in California, when Dee was eighteen months old his family moved to San Antonio which Dee called home for the remainder of his life. Dee loved San Antonio and was proud to be a Texan, he was fond of saying that he was not born in Texas but got here as soon as he could. Dee was a self-taught engineer, inventor and entrepreneur whose formal education ended in the beginning of the ninth grade when Dee had to quit school to help support his family because his father had become critically ill and could no longer be the family bread winner. It was the early recovery years after the Great Depression when Dee first started working at age fifteen in automobile related shops but within a few years Dee was able to find a job in his chosen field working on aircraft when he became an apprentice for Braniff Airways and later moved to California to work for Western Airlines where he became a CAB licensed aircraft mechanic and then returned to San Antonio to rejoin Braniff Airways (The CAB was a predecessor to the current Federal Aviation Administration (FAA)).
During World War II Dee was inducted into the Army Air Corp, however, due to a critical shortage of airline mechanics he was placed on enlisted reserve status and told to return to his job as a mechanic at Braniff Airways. When possible Dee worked the night shift at Braniff so he could work during the day performing maintenance on private aircraft which provided him the funds to take flying lessons and become a licensed civilian pilot. Over the years Dee's flight experience varied from pleasure flying to flight test and extensive sales demonstrations of the aircraft he produced.
With the war over in 1946, Dee left Braniff and joined the newly formed Slick Airways (founded in January 1946 by Earl F. Slick), one of the first post war all cargo airlines and one of the first tenants on the newly opened San Antonio Municipal Airport (later to be known as San Antonio International Airport). While working for Slick Airways Dee towed the first airplane into the first hangar at San Antonio Municipal Airport which began Dee's 50+ year partnership with San Antonio International Airport. The role that Dee Howard played in the growth of the San Antonio International Airport was recognized by the Airport honoring Dee by re-naming a portion of South Terminal Drive Dee Howard Way and the wings off of The Dee Howard Co. BAC1-11 used in the Rolls Royce Tay 650 re-engining program are a permanent sculptor at the Airport. Shortly after Dee joined Slick Airways he became part of management and was given responsibility for conducting the modification program to convert the military C46 cargo aircraft for commercial use, working for the first time with engineers to obtain CAB/FAA certification of the military aircraft. With the successful completion of the airline project, engineering (both aviation and automotive) became Dee's primary focus for the remainder of his career.
In 1947 Slick Airways decided to move its operations to California, Dee did not want to transfer to California because his family ties were now firmly rooted in San Antonio, so at the age of twenty-seven with a wife and two young children Dee resigned his secure position with Slick Airways and founded his first company, Howard Aero, Inc., starting with a small one-room building on the ramp at San Antonio Municipal Airport and shortly thereafter hired his first employee, Ed Swearingen, and later hired Bill Lear, Jr. Howard Aero grew rapidly and became one of the most successful aircraft maintenance and modification companies of the post-World War II era. When Dee celebrated his 40th birthday in 1960, Howard Aero had over 1000 employees.
Howard Aero's first major program was to extensively modify and remanufacture the Lockheed Ventura medium bomber into a high performance long range business aircraft that became the Howard Super Ventura. The highly successful Super Ventura was followed by the Howard 250, the Howard 350, and the Howard 500 models. The Howard 500 received an FAA Type Certificate (TC) as an all new pressurized aircraft. The Super Ventura and the Howard 500 were produced on an assembly line in the same manner that new aircraft are manufactured. An impressive number of various other Howard Modified Lockheed Aircraft were produced and flew with an enviable safety record. Not any of the Dee Howard Aircraft was involved in a passenger fatality.
Bill Lear was a contemporary of Dee and although Bill and Dee were competitors, they had great respect for each other and became close friends. In the early 1960's Dee worked with Bill during the development of the first business jet aircraft which became the Learjet and Dee produced the first full-scale mockup of the Learjet in his hangar in San Antonio. Years later when Bill passed away, as a tribute to Bill, Dee's personal Learjet was the lead aircraft in a flyover at Bill's funeral in Reno, Nevada.
In 1964 Dee founded The Dee Howard Co. (DHC) based at San Antonio International Airport. DHC soon became the industry leader in engineering and production of performance improvements and quality products for the emerging business and commercial jet aircraft markets.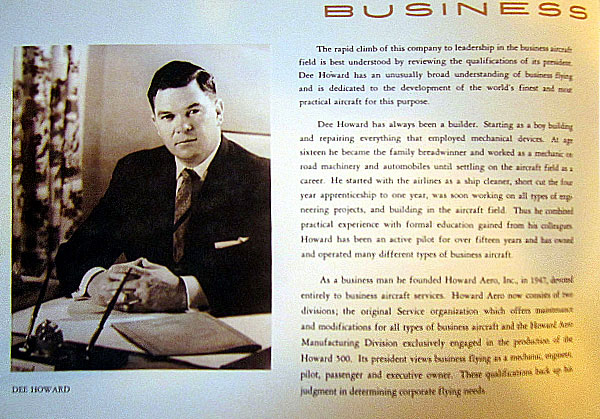 When the new business jets were first introduced they were equipped with drag-chutes for emergency stopping. It wasn't long before business jet thrust reversers went to the top of Dee's list of important things that needed to be done. The rest is history. The first Dee Howard designed and produced thrust reverser for the GE CJ-610 jet engine was highly successful and advanced the state of the art in thrust reverser function and reliability. With the introduction of the fan-jet engines for business aviation, The Dee Howard Co. entered into a joint venture with a French engineer, Etienne Fage, to develop cold flow thrust reversers for high bypass fan jet engines. Etienne was one of the original development engineers for the supersonic Concorde. The Dee Howard/Fage thrust reversers were manufactured by The Dee Howard Co. and soon became standard equipment on several new business jets that were manufactured in the USA, Great Britain (Hawker) and France (Dassault).The Dee Howard Co. thrust reverser business was eventually spun off from The Dee Howard Co. and sold to Nordam of Tulsa, Oklahoma whose Nacelle/Thrust Reverser Systems Division still produces them to this day.
Dee continued to invest in research and development of cutting edge technology, engineering, and aircraft performance improvements, diversifying his business base and growing his company, the growth always being led by DHC state of the art engineering and proprietary technology. Some of the programs and services offered by DHC included:
The Howard/Raisbeck Mark II technology for the Learjet, developed by DHC and a former Boeing engineer, Jim Raisbeck. The Mark II dramatically improved the Learjet flight characteristics and short runway performance , was manufactured and installed by DHC in the retrofit market and incorporated by Learjet in new production aircraft;
The Dee Howard XR (Extended Range) modification for the Learjet improved the aircraft's efficiency by 23% by achieving maximum aircraft range at mach 0.80 cruising speed at a time when only the most efficient new swept wing aircraft were able to achieve maximum range at such high cruising speed. The Howard XR technology was adopted by Learjet for the new production G-model aircraft and installed by DHC at its facility in San Antonio;
Pioneering work in engineering and modification on wide body airline type aircraft for head-of-state customers. The capstone accomplishment of this activity was the completion of a new production B747-300 aircraft for His Majesty King Fahad of Saudi Arabia. According to Boeing it is the largest and most extensively engineered and modified head-of-state aircraft ever produced;
Modification of passenger aircraft to cargo configuration for Federal Express, including the installation of cargo doors;
Avionics upgrades to state of the art glass cockpits;
Strip and paint facilities;
Maintenance and modification, including, the installation of wing box modifications on the ATR aircraft;
Rolls Royce Tay 650 engine retrofits on the BAC1-11 aircraft and the fleet of B727 cargo aircraft for UPS;
In 1988, twenty-four years after its founding in 1964, The Dee Howard Co. had grown to over 1,500 employees, including more than 350 engineers, and occupied more than 54 acres at San Antonio International Airport, including more than 550,000 square feet of buildings including three hangars that could house wide body aircraft such as B747s and DC-10s. In 1988, Dee sold a 40% interest in DHC to the Italian aerospace company, Alenia (a division of Finmeccanica and then known as Aeritalia) to continue to expand the global business opportunities for the company and to secure a major long term commercial aviation employer for his employees and San Antonio after he was no longer involved in day to day management of the company. Between 1988 and 1991 Dee transferred his remaining 60% interest in DHC to Alenia and passed the baton in the aircraft business to others.
But the final chapter in Dee's storied career had not been written, far from it. After Dee left DHC he founded River City Products, Inc. (RCP) to focus on his other engineering passion, automotive engineering. Specifically, to improve highway safety by making heavy over the road vehicles directionally stable, less fatiguing, and safer to drive. Dee licensed RCP to manufacture and sell the Howard Precision Steer Wheel Control System which is still in service on more than 3,000 heavy over the road buses, trucks and recreational vehicles that have collectively driven hundreds of millions of in-service miles. Due to failing health, Dee retired from RCP in 2006 and passed away on 12 February 2009. As one final tribute to Dee's engineering genius, the final patent was issued by the US Patent & Trademark office [No.7.806,419] to Durrell U. " Dee" Howard on 5 October 2010.