Founded by Earl F. Slick in San Antonio in January 1946
No video selected.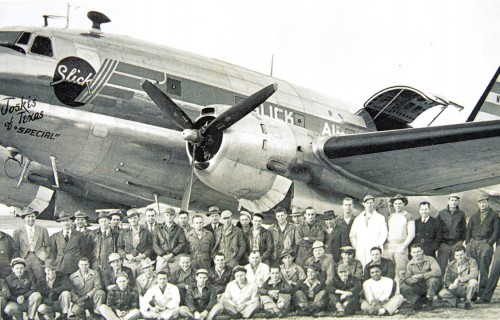 In January 1946, Earl F. Slick (brother of Tom Slick, founder of Southwest Research Institute) founded Slick Airways as the air cargo division of the Slick Corporation, headquartered in San Antonio.
According to Wikepedia, "…Slick Airways had its original fleet of Curtiss C-46 Commando aircraft based at Lockheed Air Terminal (Burbank) and San Francisco Airport. In 1949, scheduled freighter flights to domestic destinations were commenced, and by 1951, the company had become the largest all-cargo airline of the United States…"
Read more about Slick Airways on Wikipedia.
Pictured above: Slick Airways team (including Dee Howard standing far right) in San Antonio in 1946. As a foreman at Slick Airways Dee towed the first aircraft into the first hangar at what was then called San Antonio Municipal Airport (now San Antonio International Airport).
Published: Tuesday, 23 June 2015
About the Author

Co-founder and Chair of The Dee Howard Foundation, Wayne entered the private practice of law in San Antonio in September 1969 and met Dee Howard in 1970. Wayne served as Dee's personal attorney from 1970 to 2007, outside General Counsel of The Dee Howard Co. (DHC) from 1970 to 1988, Senior Vice President and General Counsel of DHC from 1988 to 1990 and member of the Board of Directors and Executive Committee of DHC from 1988 to 1992.
This email address is being protected from spambots. You need JavaScript enabled to view it.