No video selected.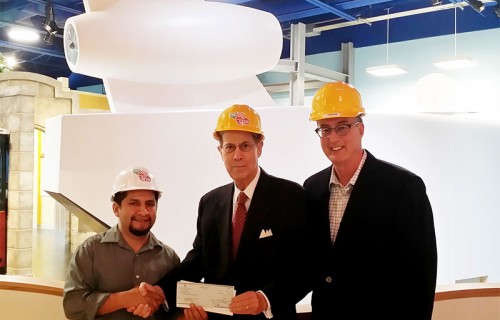 On 2 April 2015, as part of the DHF Pre-K thru 12 Initiative, The Dee Howard Foundation Fund of the San Antonio Area Foundation awarded a grant in the amount of $500 to The DoSeum (San Antonio Children's Museum) in support of its aviation and aerospace programs during its celebration of Aviation History Month in November 2015.
This grant is part of DHF's ongoing collaboration with the DoSeum which began with DHF's support of the museum's Come Fly with Us program in November 2014.
The San Antonio Children's Museum was founded by a group of dedicated volunteers who were committed to building a community space dedicated to early childhood development.
In September of 1995, the museum opened its doors in downtown San Antonio. Since then, millions of visitors explored three floors of hands-on exhibits that spark children's imagination and help them discover a world of knowledge. Dedicated to children ages 0-10 years, the museum's exhibits and programs have always focused on early childhood learning, especially in the creative arts, sciences and early literacy.
San Antonio's new museum for kids, The DoSeum, will open on June 6, 2015 at 2800 Broadway near the corner of Broadway and E. Mulberry.
Pictured above at the presentation of the grant are (left to right): Chris Navarro (DoSeum Public Programs & Community Partnership Manager), Wayne I. Fagan (DHF Chair), and Charlie Walter (DoSeum Chief Operations Officer).
To learn more about The DoSeum please visit their website at http://www.thedoseum.org/
About the Author

Co-founder and Chair of The Dee Howard Foundation, Wayne entered the private practice of law in San Antonio in September 1969 and met Dee Howard in 1970. Wayne served as Dee's personal attorney from 1970 to 2007, outside General Counsel of The Dee Howard Co. (DHC) from 1970 to 1988, Senior Vice President and General Counsel of DHC from 1988 to 1990 and member of the Board of Directors and Executive Committee of DHC from 1988 to 1992.
This email address is being protected from spambots. You need JavaScript enabled to view it.