Dee Howard Fellowship, Department of Mechanical Engineering, UTSA
No video selected.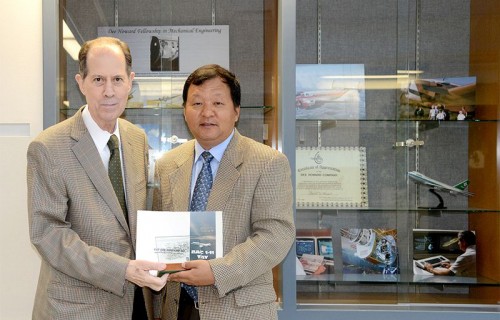 On 25 June 2015, as part of its support of educational initiatives (Pre-K thru 12, local colleges and universities), Wayne Fagan presented to Hai-Chao Han, PHD, a glass etching of a Rolls Royce Tay 650 engine.
Also presented was a Dee Howard Co. brochure of the BAC1-11 aircraft with the RR Tay 650 engine and a photo of a UPS B727 aircraft with the RR Tay 650 engine, the two aircraft re-engine programs by DHC using the RR Tay 650 engine.
Pictured: Wayne Fagan, The Dee Howard Foundation Chair, and Dr. Hai-Chao Han, Zachry Endowed Chair Professor and Chair of the Department of Mechanical Engineering at the University of Texas at San Antonio, stand in front of a display case of Dee Howard aviation memorabilia housed in the UTSA Department of Mechanical Engineering commemorating the establishment of the Dee Howard Fellowship in Mechanical Engineering at UTSA.
To learn more about the Fellowship we invite you to visit their website.
To learn more about other Dee Howard Foundation Educational Initiatives we invite you to visit the DHF Education Blog.
About the Author

Co-founder and Chair of The Dee Howard Foundation, Wayne entered the private practice of law in San Antonio in September 1969 and met Dee Howard in 1970. Wayne served as Dee's personal attorney from 1970 to 2007, outside General Counsel of The Dee Howard Co. (DHC) from 1970 to 1988, Senior Vice President and General Counsel of DHC from 1988 to 1990 and member of the Board of Directors and Executive Committee of DHC from 1988 to 1992.
This email address is being protected from spambots. You need JavaScript enabled to view it.