Launch Date September 15th
Welcome to our 3rd annual Aviation and Aerospace Art Contest. We are so happy you are interested in having your students participate this year. Last year over 2,000 students participated, and our goal this year is to get to 3,000 students.
---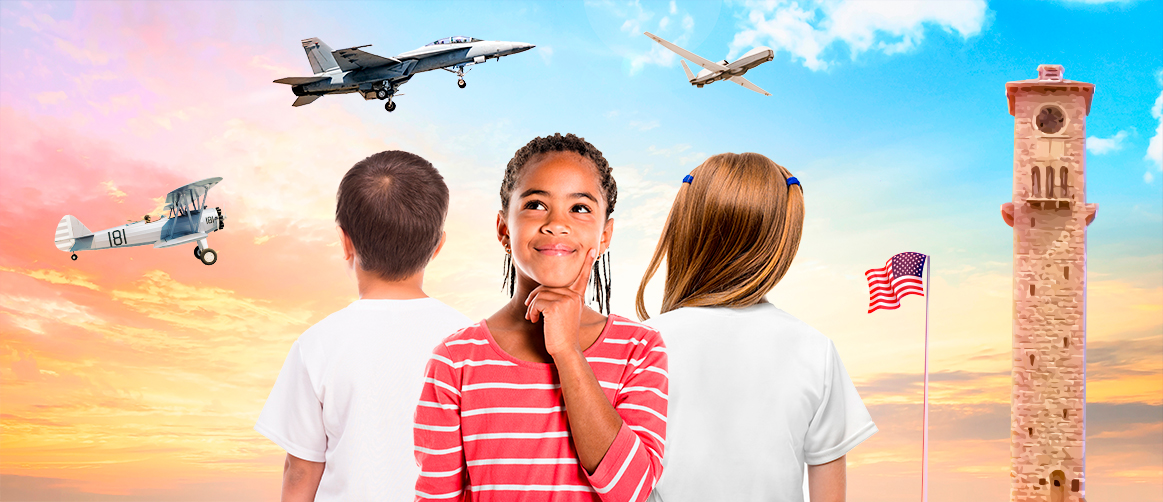 2022 Contest Theme
"The History of Military Flight"
We want all the young innovators out there to know that San Antonio is home to the very first military flight. On March 2, 1910, Maj. Gen. Benjamin D. Foulois climbed aboard the Army Airplane No. 1 at Fort Sam Houston and, at 9:30 a.m., circled the field, attaining the height of 200 feet and circling the field at the speed of 30 mph. The flight only lasted for seven and a half minutes.
Foulois made four flights that day, crashing on the last flight due to a broken fuel pipe. The premier flight became known as the "birth of military flight," and Foulois became known as the "father of U.S. military aviation."
For this year's contest, we are asking our artists to create art that capture's our admiration and reliance on the aircraft that serve our country. Your art can depict military aircraft from the past, present, or future.
---
Mission Commander
Our Mission Commander for this year's Art Contest is Lt. Col. Amy Tullis. She is the commander of the 433rd AW at JBSA Lackland. She flies one of the largest planes in existence, a C5!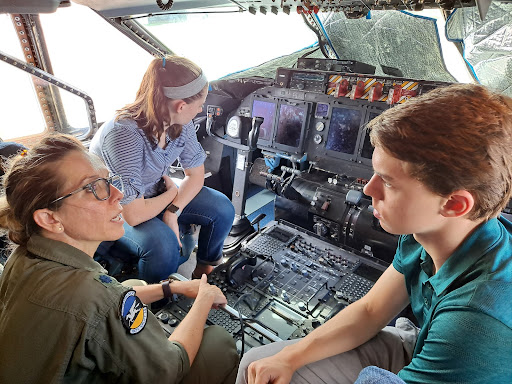 "Lt. Col. Amy Tullis gave the Dee Howard Foundation Interns a tour of the plane she flies and instructs other pilots how to fly.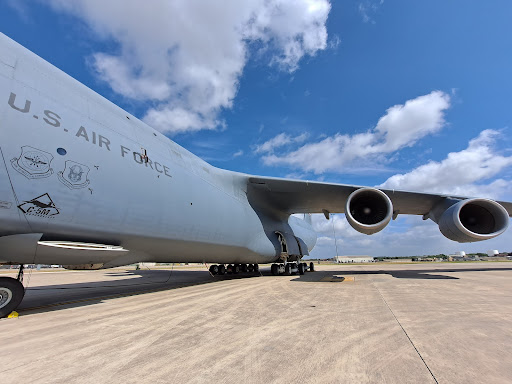 This is a C5, the kind of plane that Lt. Col Amy Tullis flies and teaches others to fly.
---
ART Contest Timeline and Submission Dates
Do you want to participate this year? Check out the timeline and submission dates.
Sept. 15 — Art Contest registration opens
Art Educators are eligible to receive a $100 stipend if they are in the Top 40 to register for the contest and they submit artwork to their district liaison by November 1.
Sept. 15-Oct. 31 — Conduct campus-level art contests
Art Educators will be provided a YouTube link that will have an educational video on the Military History of San Antonio and an introduction to our Mission Commander, Lt. Col. Amy Tullis — the first female commander of the 433rd AW at JBSA Lackland. She flies a C5! The Video link will be available on 9/15.
Nov. 1 – Deadline to Submit campus-level winner to District Art Contest Liaison
(See a list of liaisons below)
Nov. 2-Nov 30 — District Level Art Contest
District Art Contest Liaisons will conduct a district-wide art contest for all their campus winners. The District Liaisons will select the top 3 winners in each of the grade level categories.
Dec. 1 – Deadline to Submit ArtWork to UTSA
The University of Texas at San Antonio College of Engineering & Integrated Design Student Success Center Attn: DHF/UTSA Art Contest One UTSA Circle San Antonio, TX 78249
Jan. 31, 2023 – Winners Announced
City Wide Art contest Winners will be announced live at 12 pm from UTSA on DHF's Facebook page. February - Art Contest Award Ceremony date/location TBD - Art Educator Stipends are awarded to the ISD foundations/charter schools at this event.
2022 DHF/UTSA Art Contest Liaisons for ISD's and Charter Networks
Edgewood ISD: This email address is being protected from spambots. You need JavaScript enabled to view it.
Northeast ISD: This email address is being protected from spambots. You need JavaScript enabled to view it.
Northside ISD: This email address is being protected from spambots. You need JavaScript enabled to view it.
San Antonio ISD: This email address is being protected from spambots. You need JavaScript enabled to view it.
Southside ISD: This email address is being protected from spambots. You need JavaScript enabled to view it.
Southwest ISD: This email address is being protected from spambots. You need JavaScript enabled to view it.
All Charter Networks: This email address is being protected from spambots. You need JavaScript enabled to view it.
Don't see your school district listed? Email This email address is being protected from spambots. You need JavaScript enabled to view it. with the name of your District Art or STEM Coordinator, and we will connect with them.
---
Participating Schools
The Dee Howard Foundation and the University of Texas are proud to have had the following school districts and school networks participate in the 2022 "The History of Military Flight" art contest.
2022 DHF/UTSA Art Contest Participating Schools
Alamo Heights ISD
Boerne ISD
Brooks Academy of Science and Engineering
Central Catholic High School
Compass Rose
Edgewood ISD
Harlandale ISD
Idea Public Schools
Judson ISD
Medina Valley ISD
North East ISD
Northside ISD
Pre-K 4 SA
Promesa Academy
Randolph Field ISD
San Antonio ISD
School of Science & Technology
Southside ISD
Southwest ISD
* as of January 11, 2021
---
Educators!
This is a great way to get your students involved in STEAM.
If you would like your students to participate in the 2022-2023 Art Contest please fill out and submit this form.
ART Submission Rules
Eligible Students
Current Students PreK-12
Students in the Following 8 Counties: Bexar; Atascosa, Bandera, Comal, Guadalupe, Medina, Wilson, Kendall
Students from ISD's, charter schools, private schools, or homeschooled "school network"
Format and Representation
Limit one entry per student Size: 8.5" X 11" paper Artwork must NOT be framed or outlined with borders
All artwork must be hand drawn/painted Artwork should represent the theme of the contest.
Medium Permitted: Acrylic, oil paint, watercolor, indelible marker pens, felt-tip pens, soft ball-point pens, indelible ink, Crayola, or any similar indelible.
Medium NOT Permitted: Non-permanent mediums such as pencil or charcoal; computer-generated artwork; collage work involving the use of photocopies
Grade Categories
Pre-K - 2nd
3rd- 5th
6th - 8th
9th - 12th
All student artwork must be submitted with a form attached to the back: